1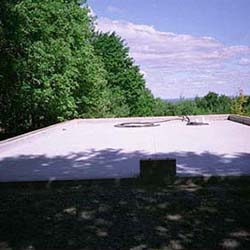 2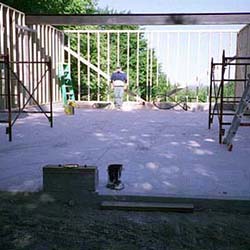 3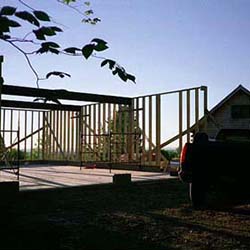 4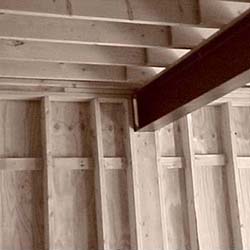 5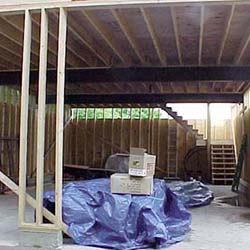 6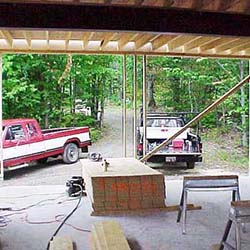 7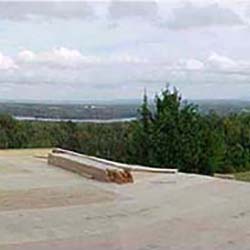 8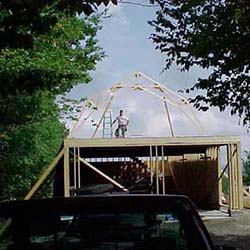 9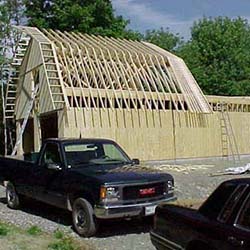 10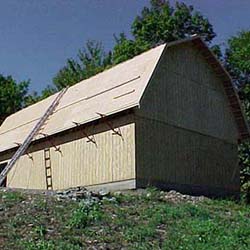 11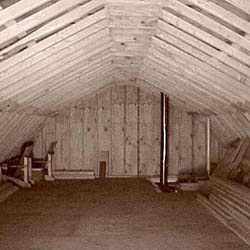 12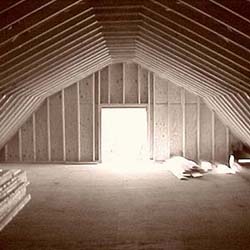 13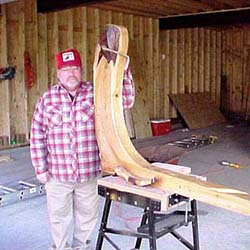 14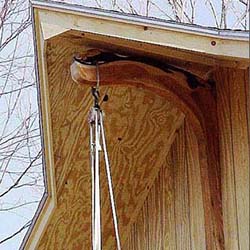 15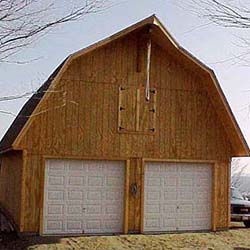 16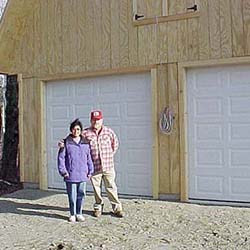 17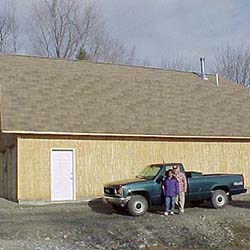 Please hold on while we load everything up...
(This may take a minute if there are a lot of photos in the series)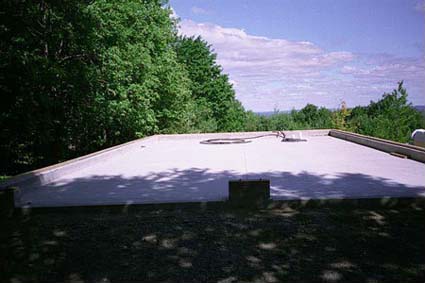 In April 2000 we featured the brand new Gambrel Garage/Shop of Larry & Joyce Emery. In 1998 Larry, formerly a U.S. State Department executive, and his wife Joyce, a staff member at the Northern Virginia Community College, both retired and moved to the quaint little town of St. Albans, Maine, population 1800, where Larry currently resides on the towns Board of Selectmen.

The Emery's used our BarnPlans, Inc.¨ 24x30 two story Gambrel Garage/Shop plans to build their 24x40 Garage/Shop and then came up with some very clever modifications of their own.

Construction began in August 1998 as Larry broke ground, excavating and leveling the building site. It wasn't until a year later, in August 1999 that they actually poured the concrete footing and slab. A single course of cement block completed the foundation. At this time Larry also burried the power, phone, water and septic lines between the house and the barn.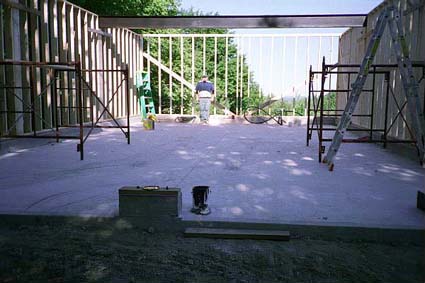 With the side and back walls framed and braced, Larry set the first of two 24' long 8x12 26 gauge steel I-beams which would eventually support the second floor joists.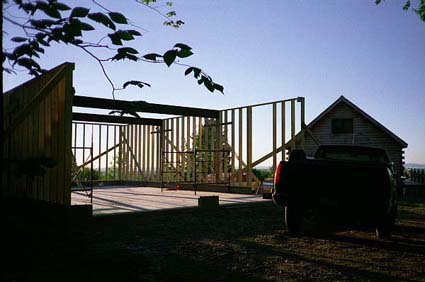 Early morning, April 4th, both steel I-beams have been set in place using a small farm tractor with a loader bucket and a chain. Now they're ready to frame the front wall.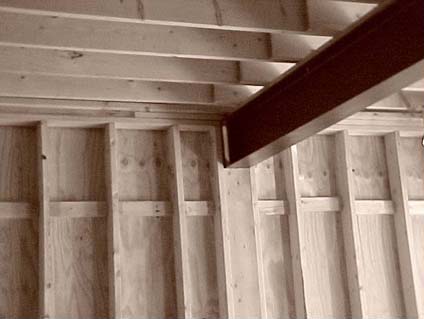 Larry didn't want his barn going anywhere......so with 2x6 spruce studs @16" OC, 2x12 floor joists @ 16" OC, a TRIPLE top plate and a very tidy installation of that steel beam, this one's built to last!!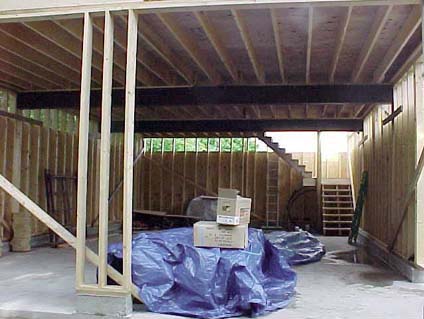 They finished framing the front wall, hung some of the siding to stiffen her up a little, built the stairs, set the second floor joists and started sheeting the second floor. The bottom level is just about done.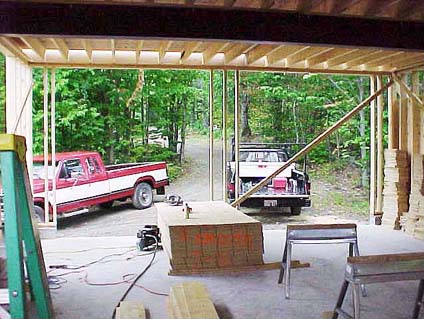 This shot out the front of the barn not only shows the beautiful road through the forest to the Emery's 14 acre mountain-top property and a unit of really nice pine T1-11 siding sitting on the deck...... if you look over to the right, it also shows the ga-zillion and a half plywood gussets that had to be cut-up for the trusses.

The second floor's done and we're ready to get started on the trusses. But wait a minute.....how about that view!?! That's Larry & Joyce's Log Cabin Home off to the right and all of Somerset County and Big Indian Lake in the distance. There's a small stand of maple trees on Larry's property just down the hill where he and his friends go down every year and make their own "Fish Lake" maple syrup and believe me, it's great...... he sent us a jug!!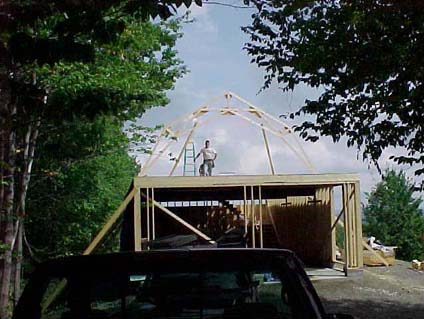 It's always so cool when you get that first truss stood up!! That's Master Carpenter Stacy Lary of St. Albans, Maine standing under the truss. Larry said, "I could not have done the job without (Stacy's) help and talent.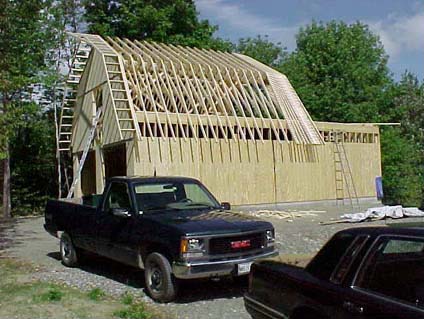 It's even cooler when you get ALL of the trusses stood up!! Larry says buying the materials and paying Stacy and a helper $14 bucks an hour to build the trusses came out way cheaper than hiring a truss company to build them!
The siding's done and the roof is sheeted. It's really taking shape. You might notice the obvious lack of windows. Larry said he wanted to get the barn "dried in" for the tough Maine winter and then simply pop the windows in in the Spring when the weather was nicer and he had a better idea of where he actually wanted them...... OK!
This shot of the loft is great! It not only shows the top of the stairs and the "Metal-Bestos" chimney system for the wood stove, it really shows well, the totally open space that the engineered Gambrel Truss Design provides.
9 1/2 feet high at the center and just over 6 feet high at the pitch break, the loft will provide Larry with plenty of room for his upstairs workshop...... Hey, boys gotta have their toys!
Here's a different one for ya!! Larry, pictured here, is holding his knee..... well, not actually HIS knee....... it's Newman's Knee.... and that's not just any old knee....nuh-uh!! This one's a genuine "Tamarack (Larix Laricina (Du Roi) K. Koch) Knee" custom cut in the old traditional style by none other than Newman of "Newman's Knees" at http://www.newmansknees.com ....check him out!!
Although primarily ornamental and not installed to lift heavy loads, the "knee" adds a classy touch to what has already become a beautifully finished barn.
Wow..... nice!! The finished barn ran up a total bill of just over $23K including:
Site work and foundation----------------------$6724
Electrical-------------------------------------------$350
Labor for two carpenters---------------------$6608

Not including Larry's labor which he says would have been 120 hours or so, the total material cost of $9316 comes out to just under $10 per sq. ft. for the 960 sq. ft barn and they framed and finished the whole thing in one month between September 3rd and October 4th, 1999..... not too shabby!!
This is the part we really like...... Larry & Joyce standing in front of their finished barn, arm in arm, smilin'!! Y'know, these guys worked really hard!! They used the plans, they figured it out and they built their own barn......Man, that's the way!! Larry says, "All in all, it's a stout, and I think, attractive building......your plans were very clear and helpful".
So there...... it's Larry & Joyce's barn up on their mountain top in Maine. That is so cool!! They're "happy campers" and so are we, knowing that one more barn built with our plans has made one more barn dream come true!! We here at BarnPlans, Inc. want to wish you guys many happy years of retirement....really nice job!! (Got any more of that Maple Syrup??)
Copyright © 1997 - 2023 BarnPlans, Inc. All rights reserved.
BarnPlans™ and the BarnPlans™ logo are Registered Trademarks
BarnPlans Engineered Truss© design.